As part of the "Emily Gets Her Gun" series, Emily Miller needs to buy a handgun to legally register in Washington, D.C.
Please vote in the poll here for the pistol you think she should buy.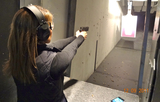 Since the District does not allow concealed or carry permits in the nation's capital, she is looking for a full-size gun for protection in the home.
Of course there are many great guns on the market, but she has shot these options and feels comfortable with them. The choices are all 9mm, with the exception of the Smith & Wesson revolver.
What do think? There's plenty of space below to share your comments and other gun recommendations.
Next up in the series: Making guns near D.C.
"Emily gets her gun" is a new series following senior editor Emily Miller as she legally tries to get her hands on a gun in the nation's capital. You can also follow her on Twitter and Facebook.