Rick Perry loves all kinds of guns. The Texas governor, who famously shot dead a coyote with his .380 Ruger pistol for threatening his dog while on a morning run in 2010, agreed to be the subject of this new feature series that explores the gun collections of people in the spotlight.
(Click here to read about the firearms owned by Olympian Kim Rhode. Click here for real estate mogul Donald Trump. Click here for Rep. Paul Ryan.)
The fifth-generation Texan has been shooting since he was kid. Mr. Perry told me that, "The first gun I ever had was given to me by my grandfather when I was young — a Remington single shot .22LR. I still have it."
The governor, who ran for president this year, emailed me that some of his favorite firearms are his LaRue OBR 5.56 rifle, a Colt 1911 .45 caliber pistol and a 12-gauge Browning Maxus shotgun.
The Lone Star state chief executive is most passionate about his rifle.
"My favorite gun is the LaRue OBR — the machining is so precise and the weapon will shoot 1" MOA (or less) time after time. It is a work of art!!"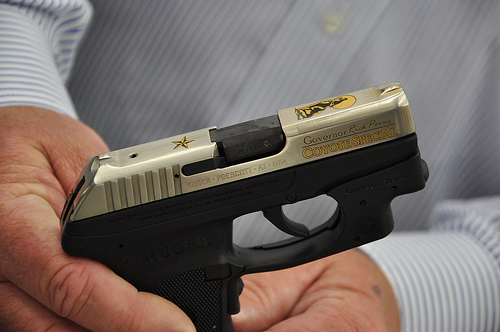 He said that he uses his guns for a variety of purposes including self-defense, target shooting and hunting.
"One of my favorite hobbies is going to target shoot at LaRue Tactical just outside of Austin," said Mr. Perry.
When he was running for governor in 2010, Mr. Perry posted a video called "What to do on a day off" which showed him shooting at the 100 meter LaRue range.
Referring to it as "my form of golf," the governor said that, "I'm still trying to get a hole in one — five rounds in the same hole — but I haven't quite got there yet. I think a 5.56 is my best. For me, it's really relaxing."
Mr. Perry's public embrace of gun ownership and normalizing the use of firearms helps to show gun grabbers that the Second Amendment is strong.
Emily Miller is a senior editor for the Opinion pages at The Washington Times. Her "Emily Gets Her Gun" series on the District's gun laws won the 2012 Clark Mollenhoff Award for Investigative Reporting from the Institute on Political Journalism.You can also follow her on Twitter and Facebook.