Alcee Lamar Hastings
House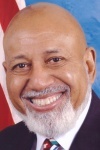 Birthdate: Sept. 5, 1936
Birth Place: Altamonte Springs, FL, United States
Residence: Miramar, FL
Religion: African Methodist Episcopal
First Elected: 1992
Gender: Male

Candidacy
Party: Democratic
State: Florida
Office: House
District: District 20

Education
Undergraduate: Fisk University
Degree: BA

Graduate: Florida Agricultural and Mechanical University
Degree: JD

Alcee L. Hastings was born in Altamonte Springs, Fla., and now lives in Miramar. He earned a bachelor's in 1958 from Fisk University and a law degree in 1963 from Florida Agricultural and Mechanical University.
Hastings was active in the civil rights movement; he was arrested 11 times in Florida, Alabama and Mississippi.
He became the first black U.S. district judge in Florida in 1979 when President Jimmy Carter appointed him. In January 1983, Hastings was found innocent of soliciting a bribe, but five years later the U.S. House impeached him relating to the bribe charges. The U.S. Senate convicted him in October 1989 and he was ousted from the bench. However, a federal judge threw out Hastings' conviction in September 1990.
He was elected to the U.S. House in 1992.
Hastings is divorced and has three children.
Profile
Alcee L. Hastings, representing Florida's 23rd Congressional District, is a member of the Organization for Security and Cooperation in Europe, which plays a leading role in foreign affairs. The organization, also known as the Helsinki Commission, is an independent agency of the federal government that works with 56 countries to promote human rights, democracy and economic, environmental and military cooperation.
However in 2011, Hastings faced allegations that he sexual harassed one of the commission's employees in Vienna, Austria, who described repeated, unwanted sexual advances. Hastings denied the claims, calling them "ridiculous, bizarre, frivolous." In 2012, a federal judge released him from personal responsibility in a lawsuit filed by the employee, but allowed her suit to continue against the commission.
Following redistricting in 2012, Hastings is running for re-election in the 20th Congressional District. He faces two independent candidates in the November election.
In 2012, Hastings continued his advocacy for AIDS/HIV research and prevention. He also passed a bill in the House that recognizes the late singer and actress Lena Horne's achievements.
Hastings filed legislation in January 2009 seeking to address the fate of 4.7 million Iraqi refugees who either fled to neighboring countries or remain in Iraq with no place to live.
In 2010, Hastings helped organize letters from seven senators and 15 House members to Secretary of State Hillary Rodham Clinton and Defense Secretary Robert Gates, stating that the United States has a "moral obligation" to resettle tens of thousands of Iraqis who helped U.S. troops and who face death threats. The letters complained that President Barack Obama's administration was moving too slowly to grant visas to the Iraqis.
In 2009, as Congress was taking testimony on a ban on gays serving in the military, Hastings filed a bill that would hold any gay service person immune should they testify.
Source: Associated Press