Ralph Bradley 'Brad' Miller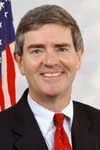 Birthdate: May 19, 1953
Birth Place: Fayetteville, NC, United States
Residence: Raleigh, NC
Religion: Episcopalian
Gender: Male

Candidacy
Education
Brad Miller was born and raised in Fayetteville, N.C. He earned a bachelor's from the University of North Carolina, a master's from the London School of Economics and a law degree from Columbia University.
Miller has practiced law since moving to Raleigh in 1980 and has been in private practice since 1991.
He was elected to the state House in 1992 before being swept from office when Republicans took control of the chamber in 1994. He was elected to the state Senate in 1996.
He was elected to the U.S. House in 2002.
Miller is divorced.
Profile
Brad Miller's congressional career as a leading advocate for financial services reform got detoured by the Republican takeover of the U.S. House in 2010 and then derailed by the GOP-penned redistricting maps in 2011.
Miller announced in January 2012 he wouldn't seek a sixth term in Congress after Republican mapmakers in the North Carolina Legislature reconfigured his 13th District to favor a GOP candidate.
The lines were redrawn so that Miller's home was put a couple hundred yards within the district of veteran 4th District Rep. David Price. Miller and Price appeared headed toward an uncomfortable primary before Miller blinked and announced his decision to leave Congress.
Miller rejected arguments that his altered 13th District was payback from Republicans who remember how he chaired the North Carolina Senate's Redistricting Committee a decade earlier.
The maps created from the 2000 census figure led to the creation of the 13th Congressional District. Not long after finishing work on the redistricting, Miller announced he would run for the new House seat.
Miller said in 2011 the reconfigured lines weren't about Republican revenge but rather a reflection of his work in Washington on the Democratic side of the aisle.
Miller became a Democratic leader in battling predatory lending amid the country's economic meltdown. He led the push in 2010 for a change in bankruptcy laws to allow judges to modify mortgages to prevent foreclosures.
Miller also has been involved in efforts to address the health needs of veterans and their families who lived at Camp Lejeune and used contaminated drinking water.
Miller joined the bulk of North Carolina's congressional delegation in voting against the Central American Free Trade Agreement, which narrowly passed the House. He's advocated for stronger border controls to stem illegal immigration, including the construction of 700 miles of fencing along the U.S.-Mexico border.
Miller and Price submitted a resolution in October 2005 urging the administration of former President George W. Bush to begin withdrawing troops from Iraq as soon as possible.
Miller entered Congress after a hotly contested campaign against Raleigh businesswoman Carolyn Grant, who sued him for defamation stemming from campaign accusations by Miller that she took $40,000 from her son's college fund to buy a car. Though the state court of appeals allowed Grant to pursue the lawsuit, she dropped it in 2006.
Source: Associated Press